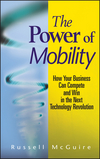 In The Power of Mobility, I feature case studies of seven companies who have successfully captured the power. Their success reflects the benefit of following the steps outlined in the book. A few weeks ago I started highlighting the stories behind the stories of these case study successes. So far, I?ve covered Xora, Anyware, and Rave Wireless the mobile solutions providers behind Allstate GES, Sport Clips, and Montclair State University respectively.
One of my favorite case studies is of PODS (Portable On Demand Storage). PODS epitomizes the mobility revolution. By taking something always assumed to be fixed in one location and mobilizing it, PODS has revolutionized their industry.
PODS has turned to Sprint's Advanced Wireless Solutions (SAWS) to improve efficiency, to track the company's containers, and to improve customer satisfaction and confidence. You can read all about it when the book comes out in a few weeks.
In the meantime, let me tell you a little more about SAWS.
According to the press release announcing the program, "this program offers businesses a one-stop shop, single contract and centralized bill, with every element of a mobility solution including the hardware, application software, mobile voice and data usage, professional services, and Sprint-centralized customer care – packaged together for easy deployment and maintenance."
SAWS currently offers six types of solutions:
Field Service Automation: coordinates and automates many of the tasks associated with scheduling, dispatching, field communication, work order and activity tracking.
Route Accounting: captures and reports sales and delivery data, accesses product and order information, adjusts invoices, tracks product returns and manages inventory.
Fleet Dispatch & Resource Management: performs complete lifecycle management on fleet of vehicles.
Mobile Asset Management: designed to provide location, tracking, accountability and maintenance data on all company assets including inventory.
Mobile IT Helpdesk Management: automates all the tasks of IT trouble ticket management processes including allocation of trouble tickets, activity tracking, ticket status update and closure.
Field Sales: provides mobile sales agent and customer relationship management for all field sales organizations.
I described how SAWS approaches this for Telco 2.0.
"SAWS is designed to be an end-to-end solution for businesses wanting to capture the power of mobility. A SAWS engagement starts with a discussion of whether the customers? needs are well addressed by one of the SAWS solutions, which may include Advisory Services, then moves into pre-implementation preparation, implementation including integration with the business? existing operations, and finally includes ongoing managed services to ensure that the customer continues to have Sprint?s full support in safely and reliably operating their mobile solution."
"The SAWS program includes identifying and integrating the right hardware, the right software, the right network connectivity, and the right ongoing management to ensure that the solution helps our customers be more competitive and profitable."
I described why this is important for business customers:
"Businesses are increasingly aware that building mobility into their offers creates new value for their customers and can increase their productivity and profitability. That doesn?t mean it?s easy. The combination of choices between devices, software, and services is overwhelming. And since the mobility revolution represents not only new power, but also new dangers, the whole process can be downright scary. SAWS takes away the confusion and the fear."
"Sprint has focused on a set of horizontal solutions that apply to a broad range of customers needs. We?ve focused on a set of partners and their applications that we?ve learned over the years create real value for our customers that we can confidently offer to our customers. Our depth of knowledge, strength of relationships, and practical experience translate into a better experience for customers from initial evaluation through to ongoing support."
And I described how the SAWS team serves their customers:
"Here?s an example. Let?s say a Sprint customer is talking to her Sprint account executive and mentions that her team is trying to figure out how to use the power of mobility to make their IT desktop support group more productive. She?d love for their support staff to be able to move from problem to problem, focused on fixing the problems, rather than having to return to their desk to fill in the resolution information, close the ticket, and pick up the next ticket requiring attention. The Sprint rep says 'Oh yeah, the Mobile IT Helpdesk. That?s one of our Advanced Wireless Solutions.'?
"The rep then contacts the SAWS organization and gets a SAWS principal involved. The principal participates in a follow-up conversation with the customer to better understand the customer?s needs, the existing operational environment, the size of deployment, any special equipment needs, the budget, the timeline, existing expectations, etc. If everything sounds like a fit for a SAWS solution, the discussions turn into a proposal, a statement of work, and then an agreement to move forward. SAWS engagement managers coordinate any necessary kitting and staging, training, integration with the customer?s back end systems, deployment to the field, etc. And then the operations group takes over to provide the managed services."
Keep an eye on SAWS and keep an eye out for the book, which should be in bookstores within a month!