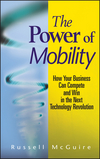 In The Power of Mobility, I feature case studies of seven companies who have successfully captured the power. Their success reflects the benefit of following the steps outlined in the book. Over the next few weeks, I'd like to provide some sneak peeks related to the featured companies.
In the book I feature Allstate GES, an appliance supply and installation company. Allstate has implemented technology from a company called Xora in order to gain significant benefits related to the management of the projects being performed by their field personnel. So, in this first case study preview, I'd like to introduce you to Xora.
On their website, Xora describes themselves as "a global leader in the rapidly expanding Mobile Resource Management (MRM) market." What does that mean? It basically means that Xora provides a way to manage resources (people, assets, vehicles) that are mobile. They've started with basic location tracking, but then added on an increasing array of value-creating features. At its simplest, being able to provide detailed reporting of when resources were where can create tremendous value. Being able to then supplement this with additional capabilities, like project time tracking, employee timecarding, work ticket opening and closing, etc. translates into meaningful value for Xora's customers.
Xora has three primary products:
GPS TimeTrack for Workers, which runs on GPS-enabled mobile phones, helps businesses more effectively manage their mobile workforce. With GPS TimeTrack, companies can monitor the location and activities of their mobile workers. The application provides wireless timecard functions as well as the ability to monitor job activity in real-time. The results include dramatic productivity improvements and tighter control over payroll.
GPS TimeTrack for Vehicles lets companies track their vehicles in real-time using embedded GPS tracking devices. These durable units are hard-mounted to vehicles, and offer GPS TimeTrack for Vehicles users robust location and speed tracking capabilities. The solution also includes powerful features such as geofencing and advanced alerts.
GPS AssetTrack is a powerful Asset Tracking solution that enables companies to track equipment, shipments and other valuable assets in real-time. The solution utilizes a small palm-sized battery-operated Asset Tag to track the location of assets both indoors and out. With GPS AssetTrack, companies can ensure that their assets are being utilized effectively as well as dramatically reduce the risk of theft.
Xora also features a number of case studies on their site. Here are some quotes from those studies to help give a sense for how organizations are using Xora's products to capture the power of mobility:
[One of the companies featured in this post informed me that they are no longer a Xora customer and asked to be removed from my blog.? I have done so.]
Stock Building Supply is the largest supplier of building materials to professional home builders in the United States, with over 200 locations in 24 states, and 2004 fiscal year sales of $3.58 billion.
Stock Building Supply deployed Xora GPS TimeTrack and each driver carries a GPS, Java-enabled phone during the work-day. Drivers use GPS TimeTrack to record "travel start" and "travel end" information, as well as "job start" and "job end" data. All of this information is sent across a wireless network. Back in the office, Bill and his team have access to web-based reports that show the status of drivers in real-time, and maps that detail the locations of drivers throughout the day.
In just three months, Stock Building Supply was achieving the goal of one additional truck turn per day with one-third of their fleet. When the goal is reached for the entire fleet, fifty additional truck loads per day works out to $1,000,000 in additional revenue per week or $50 million per year.
Founded in 1968, Landscape Design Services is the largest full-service landscaping company in Western Michigan. The company employs over 125 professionals delivering landscape architecture, construction, and maintenance services to residential and commercial customers.
Landscape Designs is serving approximately 300 customers per week, as opposed to 250 before GPS TimeTrack was implemented; which translates to a $41,000 increase in annual revenues.
Field workers are spending 50% less time on overhead-related tasks, such as paperwork.
You'll be able to read how Allstate has leveraged Xora's technology when the book comes out in mid-September.