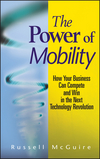 This week, my free time has been consumed with preparing the index for The Power of Mobility book (thanks for your help Deanna!). Did you know that book indexes are largely compiled by hand? Neither did I, until now!
The author has the responsibility of going page by page through the book, selecting words and phrases to include in the index, and then figuring out every page on which that word, phrase, concept, etc. appears. I can't imagine trying to do that in the days before electronic manuscripts with search tools. But even so, I learned how many words and phrases overlap. For example, I never new how many words have "wan" in them. Or did you know that "time" appears in the middle of "multimedia"?
Anyway – it's been a great learning experience and a great opportunity to marvel at how much stuff goes into a book.
As an indicator of that, I thought it would be fun to share with you all the names of people that appear in the book. Check your mobility-geek knowledge by seeing how many of these names you can recognize and see if you can figure out how they fit into a book about the power of mobility.
Alsever, Jennifer
Bacon, Sir Francis
Baran, Paul
Bardeen, John
Baschab, John
Becker, Toby
Beiagi, Alan
Berners-Lee, Tim
Best, James D.
Bezos, Jeff
Bloomberg, Jason
Boulton, Matthew
Brattain, Walter
Brewer, Clete
Briere, Danny
Brown, John Seely
Burke, John
Carr, Tammy
Cary, Frank
Chapel, Dr. Edward
Chappe, Claude and Rene
Clausius, Rudolf
Cole, Dr. Susan A.
Davidow, William H.
Davies, Donald
Deering, Paul
Dodd, Monroe
Downes, Larry
Duguid, Paul
Dunckel, Tony
Dunning, Jon
Dyche, Jill
Eckert, J. Presper
Edison, Thomas
Estridge, Don
Federman, Mark
Foster, Alan
Franklin, Ben
Frei, Frances X.
Garcia, John
Gates, Bill
Goad, Tom W.
Guevel, Gene
Hagel, John III
Haney, Kerin
Henson, Paul H.
Hertz, Heinrich
Hoff, Ted
Ibuku, Masaru
Jin, H. P.
Jobs, Steve
Kaufman, Ray
Kilby, Jack
Kime, Tristan
Kleinrock, Len
Komisky, Mark
Krevor, Larry
Lancina, Gary
Levy, Evan
Licklider, J. C. R.
Logan, Robert
Lowe, Bill
Lowy, Alex
Malone, Michael S.
Marconi, Guglielmo
Mauchly, John
Maxwell, James Clerk
McCarter, Jackie
McCaw, Craig
Metcalfe, Robert,
Moore, Gordon
Morse, Samuel
Mui, Chunka
Newcomen, Thomas
Noyce, Robert
Ong, Walter J.
Pennington, Dr. Karen L.
Pierce, Andrew
Piot, Jon
Plato
Pope Innocent VIII
Ramsey, Russ
Redman, Philip
Roberts, James "JR"
Roberts, Larry
Roebuck, John
Scantlebury, Roger
Schmelzer, Ronald
Shapiro, Carl
Shockley, William
Tapscott, Don
Taylor, Bob
Ticoll, David
Tomlinson, Ray
Tong, Leighton
Turnbull, Laurence
Uhrmacher, Lisa-Anne
Valente, Oliver
Varian, Hal R.
Warhurst, Peter S.
Watt, James
Weber, Betsy
Wilkes, Maurice V.
Yefsky, Alan