Saturday, June 30th, 2007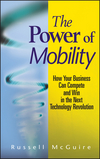 As I mentioned yesterday, this week I've been preparing the index for The Power of Mobility book.
As an indicator of the range of topics covered in the book, I thought it would be fun to share with you all the names of companies and other organizations that appear in the book. Check your mobility-geek knowledge by seeing how many of these companies you can recognize and see if you can figure out how they fit into a book about the power of mobility.
ABC
ABI Research
Accenture
Agilis Systems
AllState GES
Altair
Amazon
Ameritech
Anyware Mobile Solutions
AOL
Apple Computers
AT&T
Avis
Barnes & Noble
BDC Consulting
Bell Atlantic
Bell Labs
BellSouth
Bluefire Security Technologies, Inc.
BNET.com
Boingo
Bolt, Baraneck & Newman (BBN)
Bones in Motion
Busicom
Cambridge University
Centel
CERN
Cingular
Cisco
Comcast
Compaq
Computer Security Institute
Cox
CTIA
Dell
Detroit Police Department
Deutsche Telekom
Disney
Domino?s Pizza
Dry Cleaning To-Your-Door
eBay
EDS
EMC
Entrust
Fairchild Semiconductor
Federal Bureau of Investigation
Federal Communications Commission
Fleet Call
Foresee Results
Frost & Sullivan
Garmin
Gartner
GeoSystems Global Corporation
Google
GTE
Heathrow Airport
Hewlett Packard
IBM
Intel
International Telecommunications Union
Intuit
IOTUM Corporation
Ipsilon
J. Gold Associates
Juniper Networks
Justice Department
JVC
Kamida
Kodak
Lincoln Labs
Living Stones Ministry
London Stock Exchange
Lucent
Magnetic Telegraph Company
MapQuest
Massachusetts Institute of Technology
Mazzio?s Pizza
McCaw Cellular
McKenna Group
McKinsey & Company
Microsoft
Montclair State University
Morgan Stanley
Motorola
MSNBC
MySpace
National Physical Laboratory
National Science Foundation
Netflix
Netscape
Nextel
Nortel
NYNEX
Oak Hills Presbyterian Church
Pacific Telesis
Palm
PayPal
PennWell Publishing
People?s Republic of China
Philips
Pizza Hut
Pointsec Mobile Technologies
Pony Express
Portable On Demand Storage (PODS)
R. R. Donnelly & Sons
Rand Corporation
Rand McNally & Company
Randstad USA
RateItAll.com
Rave Wireless
RCA
Research in Motion
Roman Catholic Church
Roper
Skype
Socialight
Sony
Southwestern Bell
Sport Clips
Sprint Nextel
Sprint PCS
Sprint Spectrum
Strategy Analytics
TCI
TechSmith
TeleChoice
TeleNav
Televigation
Telmap
Texas Instruments
The Lego Group
3Com
TiVo
T-Mobile
Toshiba
United Telecommunications, Inc.
University of California-Los Angeles
University of Pennsylvania
UPS
Verisign
Verizon Wireless
Wildfire
Xerox
Xora
Yahoo
YouTube
Zenith
Zingy