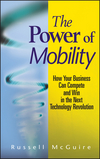 As a first time author, every milestone is exciting, so please forgive me for reporting on every inch of movement towards The Power of Mobility's release.
The book is now available for pre-order from Amazon (and so naturally Borders).
If you want a peek into the publishing process, here's what's happened so far (through my eyes – I'm sure it looks very different from the perspective of all the folks working hard at Wiley).
Last summer and fall, my agent shared a proposal for the book with the largest publishers of business books.
In the fall, we collected offers and talked to the publishers who were interested.
Obviously, we selected John Wiley & Sons. Wiley has a long tradition of success, is one of the world's largest publishers of both business and technology books, but most importantly, my rapport with the editor and publisher was strong.
We worked through the complexities of a contract involving Wiley, myself, and my employer.
At the beginning of April, I submitted the final manuscript to Wiley.
Wiley began copyediting the manuscript – fixing my typos, grammar errors, spelling errors, and breaches of the rules laid out in the Chicago Manual of Style.
At the beginning of May, Wiley returned the edited manuscript to me for the "check of edits."
Over the next few weeks, I read the book again (it still seems like a pretty good read!) checking to make sure the edits didn't change the meaning of what I'd originally written.
On Friday, I returned the "CoE" to Wiley with any corrections.
As I understand it, the next step is for the book to be typeset. I'll get one last look at it before it goes to the printer.
In September, all will be revealed!